Airborn - Lizard Secrets Part One - Land Of The Living
€

10.00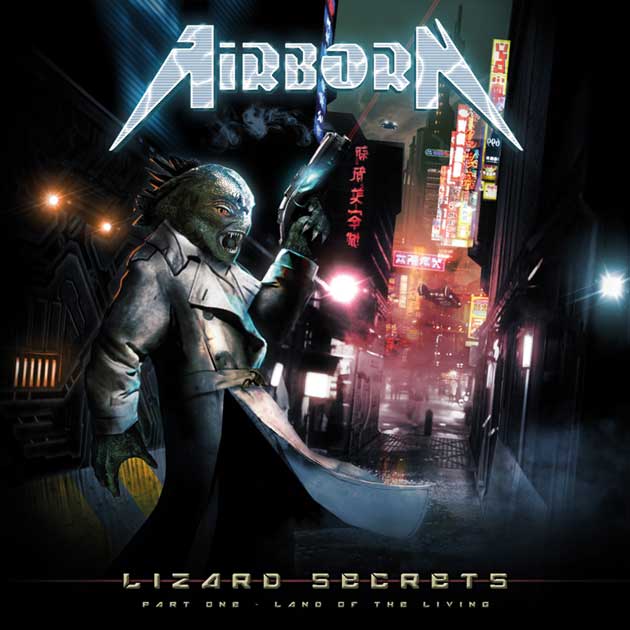 5th studio album! First part in a trilogy.
Track list:
01. Immortal Underdogs (intro)
02. Who We Are
03. Lizard Secret
04. We Realize
05. Brace For Impact
06. Wolf Child
07. Here Comes the Claw
08. Land of the Living
09. Meaning of Life
10. Metal Haters
11. Defenders of Planet Earth
12. My Country is the World
13. Cosmic Rebels 2018 (Bonus)
Special guests:
Marius Danielsen - Legend Of Valley Doom/Darkest Sins
Alexis Woodbury - Instanzia
Claudio Ravinale - Disarmonia Mundi/5 Star Grave/The Silverblack
Jan Bertram - Paragon
Press reviews:
Metallus.it - 8/10
"A great album of pure power metal that fans of the genre cannot miss."
Metal Gods tv - 9/10
"Overall, an exhilarating journey through the diversity of the power metal genre, taking in the speed, anthemic and epic styles of metal."
Power Of MEtal - 88/100
"If some of you were convinced that there was nothing left to say in power metal... well, think again!"
The Dark Room
"To no one's surprise Lizard Secrets is an awesome dose of the best power metal on the planet."
Giornale Metal - 9/10
"This is the way power metal should be done in Italy (and outside): like Airborn from Turin command!"
Musika.be - 88/100
"It is for such infectious music they have invented the 'repeat' button..."
MetalEyes - 8.7/10
"Hard to find something better in this genre."
Hardrockheavymetal - 84/100
"AIRBORN are back with style an personality. Nothin' else to add!!!"
Share